NanoLSI invites you to the open seminar as below.
We invite three researchers, who are experts in an interdisciplinary research of biology and physics, and organize seminars on various hot topics. Undergraduate students, researchers, and faculty members will be more than welcome to join this NanoLSI seminar.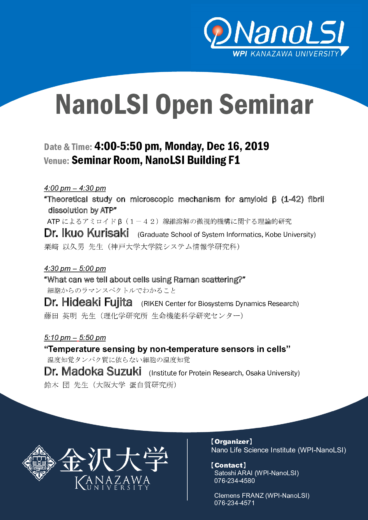 Date
Monday December 16, 2019
[Talk 1]  4:00 pm – 4:30 pm
[Talk 2]  4:30 pm – 5:00 pm
[Talk 3]  5:10 pm – 5:50 pm
Venue
Seminar Room, NanoLSI Building 1F, Kakuma Campus, Kanazawa University
Language
[Talk 1]  English
[Talk 2]  English
[Talk 3]  English
[Talk 1]
Title: Theoretical study on microscopic mechanism for amyloid β (1-42) fibril dissolution by ATP
Speaker: Dr. Ikuo Kurisaki/ Graduate School of System Informatics, Kobe University
Very recently, it is pointed out that ATP plays a role not only as an energy currency but a biological "hydrotrope" to dissolve proteins inside cells, which is a current hot topic in biology. Dr. Kurisaki will deliver a lecture on theoretical study on microscopic mechanism for amyloid β fibril dissolution by ATP.
[Talk 2]
Title: What can we tell about cells using Raman scattering?
Speaker: Dr. Hideaki Fujita/ RIKEN Center for Biosystems Dynamics Research (BDR)
Whenever a new biotechnology emerges, the tip of physics is often underlying behind it. Dr. Fujita in RIKEN will give a talk about recent advances on Raman imaging technology to unveil the microscopic world inside the cell.
[Talk 3]
Title: Temperature sensing by non-temperature sensors in cells
Speaker: Dr. Madoka Suzuki/ Institute for Protein Research, Osaka University
Temperature is a fundamental important physical parameter in our environment. Dr. Suzuki in Osaka University will give a lecture on how a live cell senses temperature from different viewpoints from traditional temperature sensing proteins.
Organizers
▶Organized by
Nano Life Science Institute, Kanazawa University
Dr. Satoshi ARAI (076-234-4580)
Dr. Clemens FRANZ (076-234-4581)