NanoLSI invites you to the open seminar as below.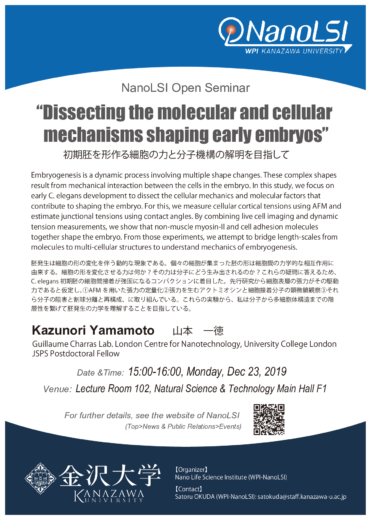 Date
Monday December 23, 2019
3:00pm – 4:00pm
Venue
102 Lecture Room, 1F Natural Science and Technology Main Hall, Kakuma Campus, Kanazawa University
Language
English
Title and Speaker
Title
Dissecting the molecular and cellular mechanisms shaping early embryos
Speaker
Dr. Kazunori Yamamoto
JSPS Postdoctoral Fellow, Guillaume Charras Lab. London Centre for Nanotechnology, University College London
Organizers
▶Organized by
Nano Life Science Institute, Kanazawa University
Dr. Satoru OKUDA: satokuda[at]staff.kanazawa-u.ac.jp
*Please replace [at] to @.