NanoLSI invites you to the open seminar as below.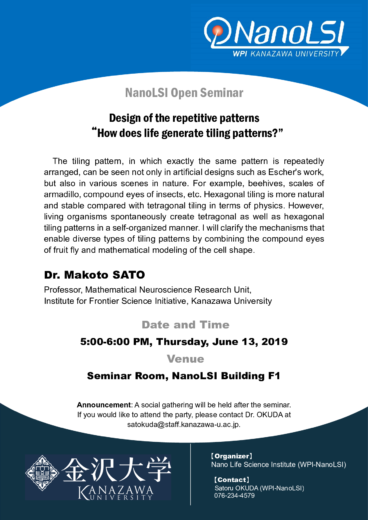 Date
Thursday June 13, 2019   5:00pm – 6:00pm
Venue
Seminar Room, NanoLSI Building 1F, Kakuma Campus, Kanazawa University
Language
Japanese
Title and Speaker
Title
Design of the repetitive patterns "How does life generate tiling patterns?
Speaker
Dr. Makoto SATO
Professor, Mathematical Neuroscience Research Unit,
Institute for Frontier Science Initiative, Kanazawa University
Organizers
▶Organized by
Nano Life Science Institute, Kanazawa University
Announcement and Contact
A social gathering will be held after the seminar.
If you would like to attend the party, please contact Dr. Satoru OKUDA (Nano Life Science Institute).
Email: satokuda@staff.kanazawa-u.ac.jp.
Tel: 076- 234-4579