NanoLSI Open Seminar will be held in a hybrid format (On site + Zoom meeting) on Thursday, April 7, 2022 from 4:30 pm to 5:30 pm (JST).
Prof. Jeremy Tame, Protein Design Laboratory,Yokohama City University, will give a speech on "Enzymes and light-activated proteins".
For the abstract, please see the attached flyer.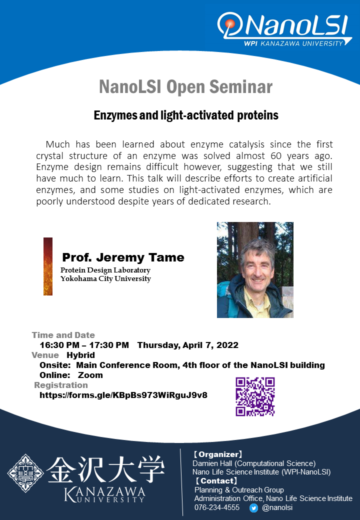 Everyone is welcome to attend to this seminar.
Registration is open until Tuesday, April. 5 via the Google form below.
Those who have registered for online participation will receive the Zoom information to their registered email by April. 5. If you do not receive an email by 10 am on April. 6, please let us know by email to nanokoho@adm.kanazawa-u.ac.jp.
For on-site participation, we ask for your cooperation in preventing the spread of the new coronavirus infection by taking your temperature and sterilizing your hands before entering the room. In addition, depending on the status of infection by the day of the seminar, we may need to limit the number of participants at the venue and may ask you to switch to online participation. Please understand that in advance.
Registration
Google form: https://forms.gle/KBpBs973WiRguJ9v8
We look forward to seeing you there!
For further information, please contact below:
Organizer: Damien Hall (Computational Science)
Assistant Professor, NanoLSI
Email: hall.damien@staff.kanazawa-u.ac.jp