Opportunities to use world-class Biological Scanning Probe Microscopy Facility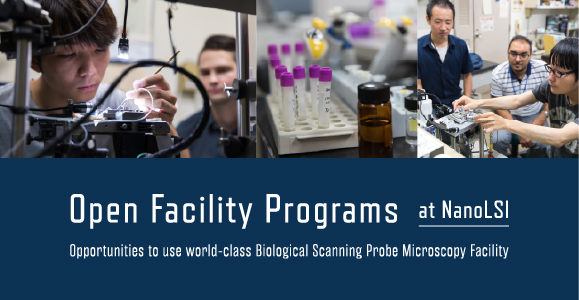 Researchers at NanoLSI have engaged in the pioneering development of original Biological Scanning Probe Microscopy (Bio-SPM) technologies, such as high-resolution AFM (FM-AFM/3D-AFM), high-speed AFM, and scanning ion conductance microscope (SICM), and applied them to the life sciences.
We are pleased to offer you opportunities to use our facilities for imaging your own biological samples or materials for biological research, and realize their potentials.
Through the programs, we would like to foster research collaborations and networks.
Research report summaries of the Bio-SPM Collaborative Research Program
In the Bio-SPM Collaborative Research Program, participants are asked to report the research findings obtained by the designated date. The summaries are listed below.
・FY2020  *This year, we accepted applications only from domestic applicants due to COVID-19. Therefore, English reports are not available.