10th Bio-SPM Summer School Call for participation  

Application has been closed!!
Overview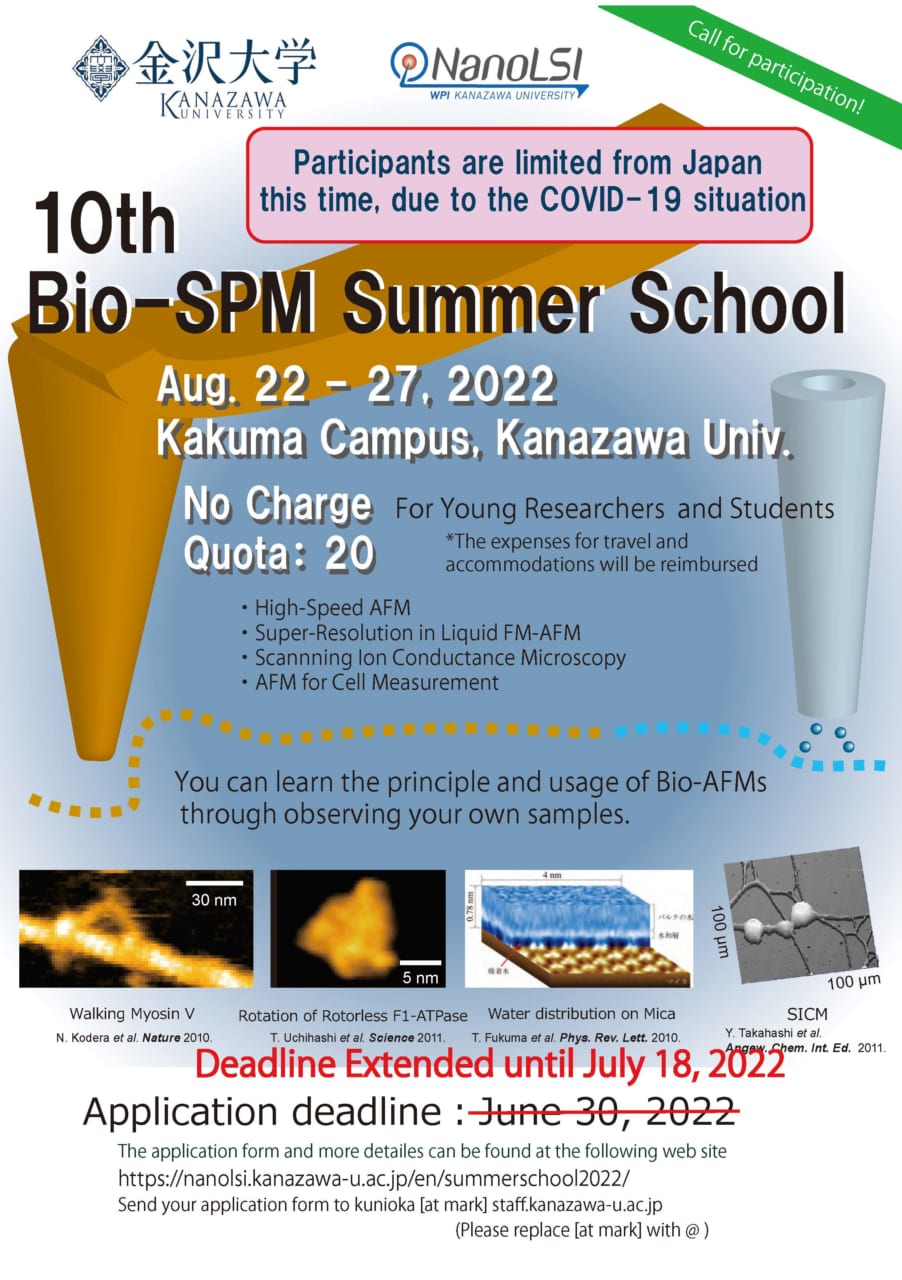 The research teams of Kanazawa University have engaged in the pioneering development of original Bio-SPM technologies, including super-resolution AFM (FM-AFM/3D-AFM), high-speed AFM, and scanning ion conductance microscope (SICM), and applied them to the life sciences.
The Nano Life Science Institute (WPI-NanoLSI), Kanazawa University, will hold a "Bio-SPM Summer School" and is calling on young researchers and students who are interested in Bio-SPM systems. In this school, we provide participants with the opportunity to use our Bio-SPM systems for imaging of their own samples and realize their potentials.
Participants can choose among systems ranging from super-resolution AFM, high-speed AFM, and SICM, according to their purpose. From this year, participants can choose a further system, AFM for Cell Measurement.
Please refer to the "Overview of each Bio-SPM technology" section of this web page for more information.
Biological samples or materials related to biological research are available for imaging with Bio-SPMs.
The NanoLSI faculty members serve as instructors and teach not only how to use the instruments but also the preparation of samples. Observation of your own samples will be carried out as collaborative research with the instructors.
Application Eligibility
Participants from overseas will not be accepted this time due to the spread of the COVID-19.
Young researchers and students who are interested in observing their own samples by Bio-SPMs. Prior knowledge of Bio-SPM is not required.
Those who can participate in the entire schedule of Bio-SPM Summer School.
Those who participated in the previous Bio-AFM Summer School are no longer eligible to participate. Please apply our Bio-SPMs collaborative research.
Schedule
Aug 22nd (Mon), 2022 – 27th (Sat), Nano Life Science Institute, NanoLSI, Kanazawa University, Kakuma Campus
All the participants will gather at NanoLSI on Aug 22nd and follow the schedule below.
On the first day (Aug 22nd), a seminar will be held in the morning.
From Aug 22nd afternoon to Aug 26th, you will all be divided into SPM rooms designated by the instructors and Bio-SPM experiments will be carried out.
On the last day (Aug 27th), results will be presented in a meeting.
Note: If it is difficult to hold the 10th Bio-SPM Summer School in a gathering style due to the COVID-19 situation, it will be held as follows:
The seminar on Monday, Aug 22nd will be held online.
The experiment will be carried out according to individual schedule as required. Participants can come to NanoLSI on different days to conduct their own experiments. The schedule will be decided in consultation with the instructor(s) of each participant. The duration of the experiment should be 5 days or less.
Finally, Results Presentation will be held online with all participants and instructors. The date will be decided later.
Application deadline
Application must reach us by June 30th, 2022 (Thursday) July 18th, 2022 (Monday) Extended!!
How to apply
Please submit your application to kunioka[at]staff.kanazawa-u.ac.jp. *Please replace [at] with @.
Quota
Around 20
We will review your applications and select participants.
Fee
Participation fee: Free of charge
Transportation to Kanazawa University and accommodation during your stay in Kanazawa will be paid according to the regulations of Kanazawa University.
You will be responsible for the shipping costs of the samples you bring with you, as well as food and miscellaneous daily expenses during your stay.
You will stay at the accommodation arranged by Kanazawa University.
In relation to the prevention of the spread of COVID-19
Only applicants from residents in Japan will be accepted.
Please note that we may refuse your participation even after your application has been accepted, depending on the infection situation in your area.
If the infection situation worsens, the event may be cancelled.
Publication of the results
When the results obtained in the Bio-SPM Summer School are expected to be a part of a manuscript, etc., please consult with your instructor(s) before submitting, as is generally the case for collaborative research.
[Application Materials]



Application Form [WORD] [PDF]
Flyer (PDF)