[For Internal Applicants Only] NanoLSI–Nikon Solutions Joint Workshop
Researchers in distress, apply now!! Postgraduates are very welcome!!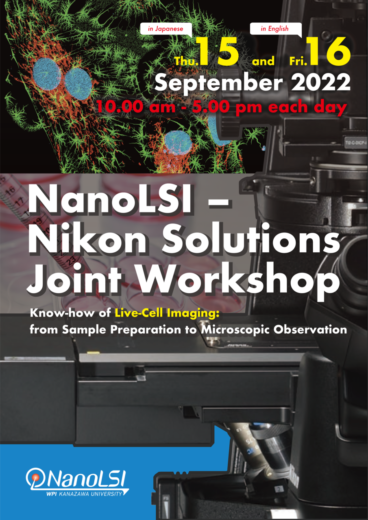 ・ I want to start live-cell imaging, but I've heard that is challenging…
・ I have recently started it, but it's not working, and also I don't know why…
・ I'm secretly wondering if there is a better way than what I'm doing to visualize…
Our workshop..
with image analysis technology experts from one of the leading companies in microscope technology development will help you overcome these concerns.
Live-cell imaging..
s a technique to visualize and observe the movement and morphological changes of biological tissues and cells from the outside. The advantage of this technique is that it allows the observation of structural changes in living organisms without the need for fixation. On the other hand, as the method is more challenging to perform on living cells and tissues, it requires more time than ordinary observation and often leads to failure.
DATE & PLACE
Day 1 : 10 am–5 pm Thu. 15 September, 2022 in Japanese
Day 2 : 10 am–5 pm Fri. 16 September, 2022 in Japanese with consecutive interpretation in English
Lecture @ NanoLSI Main Conference Room (Room No. 411)
Practical training @ Biology Student Laboratory (Room No. 1B126 and 1B128, 1st floor, Natural Science and Technology Hall 1)
PROGRAM OUTLINE
10.00 am–12.00 pm    Lect. 1 "How to stain a living cells" Dr. Kazuaki Tokunaga from Nikon Solutions Co., Ltd.
Lect. 2 "Fluorescent dyes" Dr. Chiharu Kobayashi from Nikon Corporation
12.00 pm-1.00 pm       Lunch break
1.00 pm – 2.00 pm       Lect. 3 "Points to notes when observing living cell"
2.00 pm – 3.00 pm      WS 1 "Live-cell staining hands-on"
3.00 pm – 3.30 pm      WS 2 "Basic of microscope operation"
3.30 pm – 5.00 pm      WS 3 Parallel-A "Living Cell Imaging Hands-on"
WS 3 Parallel-B  "Demonstration of the 'A1' confocal laser microscope"
♦ Same program for each day and maximum of around 20 participants per day.
♦ WS Parallel-A and B will be conducted in parallel.
♦ Researchers from Nikon and Nikon Solutions ( Dr. Kazuaki Tokunaga, Dr. Atsushi Tsurumune and Dr. Chiharu Kobayashi ) will support workshops.
♦ NanoLSI researchers who can do cell culture will assist you.
You're ready to apply!
Google Form "Registration required in advance."
***The deadline for registration deadline is 5 p.m. on Monday, September 5.  Registration is closed.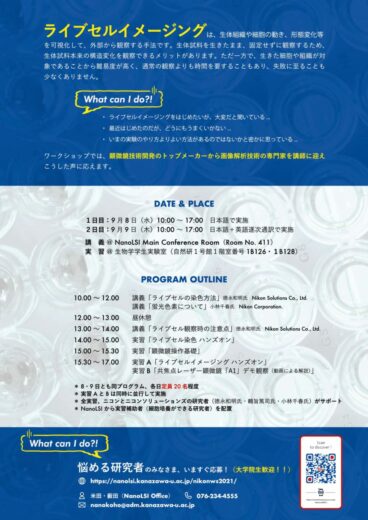 Hiroe Yoneda, Hideaki Takashima (NanoLSI Office)

(076) 234-4555

nanokoho[at]adm.kanazawa-u.ac.jp  Please replace [at] with @.