Workshop on Computational Biophysics of Atomic Force Microscopy – A Lecture Course Approach on Sep. 19-21
Computational and Theoretical Methods Applied to Atomic Force Microscopy – A Lecture-based Workshop
Objectives
Held jointly online (zoom) and in person a 'Workshop on Computational Biophysics of Atomic Force Microscopy – A Lecture Course Approach' will take place from Sep. 19-21 of 2022 within the symposium hall of the WPI-Nano Life Science Institute at Kanazawa University. The aim of the workshop is to introduce a wide range of computational and theoretical methods applicable to both simulating and analyzing Atomic Force Microscopy (AFM) experiments. The described simulation approaches will range from coarse grained mesoscopic through to quantum-level descriptions. The described analytical methods will range from conventional analysis to machine learning approaches. A range of expert speakers have been invited  and the talks are structured such that each speaker has been given a thematic  brief. The first half of each lecture is meant to cover the background and history of that lecture topic at a teaching level suitable for an advanced postgraduate course/professional scientist level. The second half of each talk will involve a presentation of the scientist's own work within the context of the field covered. Approximately eight months after the event, each speaker will be asked to contribute a 3 to 10 page review article on the background subject of their lecture and these will be published within a Special Issue of the IUPAB journal 'Biophysical Reviews' under the thematic title of 'IUPAB Workshop on Computational and Theoretical Methods Applied to Atomic Force Microscopy – A Lecture-based Workshop'. The aim is to provide a comprehensive coverage of the different theoretical and computational methods used to describe AFM in a cohesive and rational manner such that the Special Issue derived from the workshop is a true resource rather than just a random collection of articles.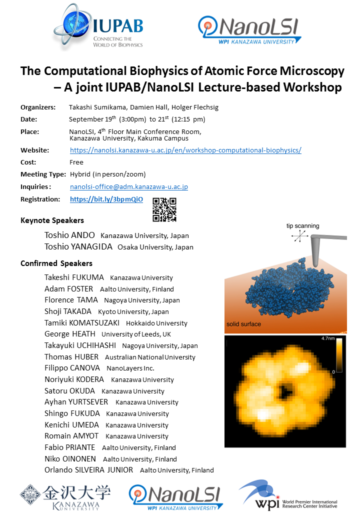 Date
September 19-21, 2022
Organizers
Dr. Takashi Sumikama, Dr. Damien Hall, Dr. Holger Flechsig
from Nano Life Science Institute, Kanazawa University
Meeting Format
Hybrid (On-site & Online)
– On-site: NanoLSI Building 4F Main Conference Room,
Kanazawa University
Access
– Online: Zoom link will be provided
Attendance Fee
Free
Language
English
Registration
*Registration deadline: 10:00 am of September 15
Program (JST)
[DAY 1   MONDAY, SEP. 19th – INTRODUCTION TO AFM EXPERIMENT, THEORY AND SIMULATION]
3:00pm – 3:30pm   INTRODUCTION/WELCOME
TAKESHI FUKUMA – WPI-NANOLSI KANAZAWA UNIVERSITY
3:30pm – 6:00pm   THREE TALKS
TOSHIO ANDO – (KEYNOTE 1) WPI-NANOLSI KANAZAWA UNIVERSITY
SHOJI TAKADA – KYOTO UNIVERSITY
GEORGE HEATH – LEEDS UNIVERSITY
[DAY 2   TUESDAY, SEP. 20th – APPROACHES TO ANALYSIS AND SIMULATION]
9:00am – 11:00am   FOUR TALKS – EXPERIMENTAL OVERVIEW
TAKAYUKI UCHIHASHI – NAGOYA UNIVERSITY
AYHAN YURTSEVER – WPI-NANOLSI KANAZAWA UNIVERSITY
SHINGO FUKUDA – WPI-NANOLSI KANAZAWA UNIVERSITY
NORIYUKI KODERA – WPI-NANOLSI KANAZAWA UNIVERSITY
12:30pm – 3:00pm   FIVE TALKS – COMPUTATION AND THEORY OVERVIEW (1)
TAMIKI KOMATSUZAKI – HOKKAIDO UNIVERSITY
DAMIEN HALL – WPI-NANOLSI KANAZAWA UNIVERSITY
TAKASHI SUMIKAMA – WPI-NANOLSI KANAZAWA UNIVERSITY
HOLGER FLECHSIG – WPI-NANOLSI KANAZAWA UNIVERSITY
FLORENCE TAMA – NAGOYA UNIVERSITY
3:30pm – 6:00pm   FIVE TALKS – COMPUTATION AND THEORY OVERVIEW (2)
ADAM FOSTER – AALTO UNIVERSITY
NIKO OINONEN – AALTO UNIVERSITY
FABIO PRIANTE – AALTO UNIVERSITY
ORLANDO SILVEIRA – AALTO UNIVERSITY
FILIPPO CANOVA – NANOLAYERS INC.
6:15pm – 7:00 pm   ONE TALK
TOSHIO YANAGIDA – (KEYNOTE 2) OSAKA UNIVERSITY
[DAY 3   WEDNESDAY, SEP. 21st]
10:00am – 12:15pm   FOUR TALKS – COMPUTATION AND THEORY OVERVIEW (3)
THOMAS HUBER – THE AUTRALIAN NATIONAL UNIVERSITY
SATORU OKUDA – WPI-NANOLSI KANAZAWA UNIVERSITY
KENICHI UMEDA – WPI-NANOLSI KANAZAWA UNIVERSITY
ROMAIN AMYOT – WPI-NANOLSI KANAZAWA UNIVERSITY
12:00pm – 12:15pm   CLOSING REMARKS
Booklet (incl. abstracts)
Online participation manuals
Host
Nano Life Science Institute, Kanazawa University
Supporter
The International Union for Pure and Applied Biophysics (IUPAB)