Important Notice
Graduate Students of Nano  Life Science, click here.
August 4, 2021
Dear All,
We regret to inform you that we have decided to cancel the 9th Bio-SPM Summer School due to the status of COVID-19 infection spread.
We appreciate your understanding.
Let us inform you as follows.
1.You are able to visit NanoLSI and make the observation using Bio-SPM, after coordinating with your instructors.
– When you can visit: During this academic year, neither the "State of Emergency Declaration" nor "Focused Anti-infection Measures" have been issued in both Ishikawa prefecture and the prefecture where you live.
– Period and number of visits: Around 1 week and once. Kanazawa University will pay the travel expenses.
– Note
*Depending on the spread of COVID-19 infection in the future or due to the instructors' circumstances, we may not be able to meet your request.
*Issued status as of August 4, 2021:
<State of Emergency Declaration, by August 31>
Prefectures: Tokyo, Saitama, Chiba, Kanagawa, Osaka, Okinawa
< Focused Anti-infection Measures, by August 31>
Prefectures: Hokkaido, Ishikawa, Kyoto, Hyogo, Fukuoka *Please check the latest status on the Cabinet Secretariat website.
https://corona.go.jp/emergency/
2. We will hold Bio-SPM summer school in 2022. If you are not able to visit this academic year and would like to participate next year, please apply next year again.
3. If you incur a cancellation fee of travel expenses due to the cancellation of the summer school, please let us know. We will bear it as much as possible.
4. The website of the summer school I introduced yesterday will be open for a while. Please feel free to see the pre-learning materials.
We will also post various information on this website.
Best regards,
Yuki Kunioka
Secretariat for Bio-SPM Summer School
---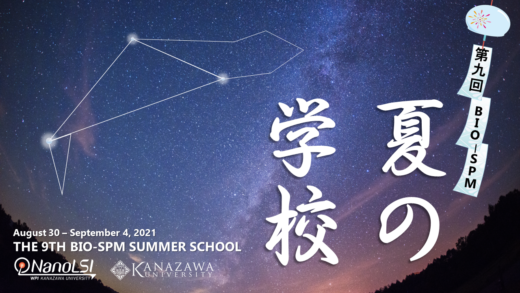 For Participants
---
Thank you for your application to the 9th Bio-SPM Summer School 2021.
We are preparing a handbook with information on how to participate and the schedule. We will upload the handbook as soon as it is completed. Please make sure you read it before attending.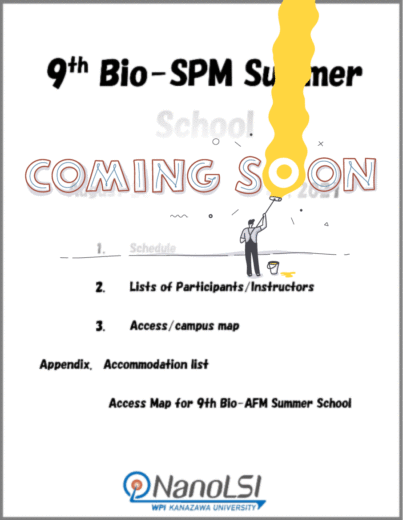 Handbook on the 9th Bio-SPM Summer School 2021
---
<Pre-learning tasks>
Click the one according to the course you are attending and study them in advance.
If you have questions about the course materials, you can send e-mail to instructors.  The format of the materials varies depending on the course.
1. HS-AFM course   :  Please read the following paper in advance.
Ando T., Uchihashi T., Kodera, N. "High-Speed AFM and Applications to Biomolecular Systems", Annu Rev Biophys, vol.42, pp393-414, 2013
DOI: 10.1146/annurev-biophys-083012-130324
*If you have any problems accessing this paper, please contact us.
2. Super resolution in-liquid FM-AFM course :  Please see the linked video (50 min).
URL: https://vimeo.com/581963406  Password required.
3. SICM course  :  Please read the linked materials (PDF, Japanese only).
You can study the materials of other courses, if you are interested in.
Distribution of the materials to other than participants and instructors of 9th Bio-SPM summer school is prohibited.