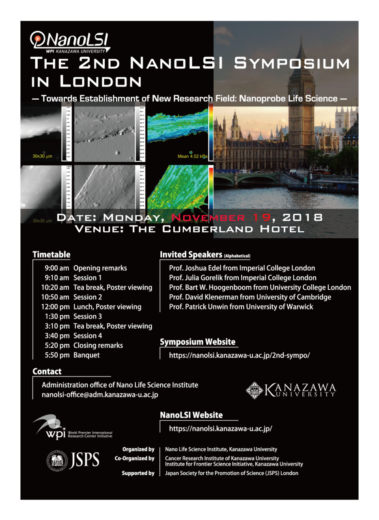 Nano Life Science Institute (WPI-NanoLSI) of Kanazawa University, Japan aims for acquiring a fundamental understanding of the various life phenomena, such as development, disease and aging through transdisciplinary research of Nanometrology, Life Science, Supramolecular Chemistry and Computational Science.
Following the first international symposium held in Tokyo in February 2018, NanoLSI holds the 2nd Symposium in London to enhance collaborative relationship with Imperial College London as well as to initiate collaborations with researchers around the UK.
We are sincerely looking forward to seeing you at this symposium.
■Date:November 19 (Mon), 2018
■Venue:The Cumberland Hotel, London (Great Cumberland Place, London W1H 7DL, UK)
■Language:English
■Registration:Registration Form (closed)
*Registration is required in order to attend the Symposium via our Registration Form.
■Fee:Free of charge to attend the symposium, but GBP 40 is required to attend the banquet.
■Program:NanoLSI-2nd_programme (Last updated: October 29)
■Invited speakers (alphabetical order) :
Joshua Edel
Imperial College London
Julia Gorelik
Imperial College London
Bart Hoogenboom
University College London
David Klenerman
University of Cambridge
Patrick Unwin
University of Warwick
■Speakers from NanoLSI (alphabetical order):
Adam S. Foster
Aalto University/NanoLSI
Takeshi Fukuma
NanoLSI
Atsushi Hirao
NanoLSI
Yuri Korchev
Imperial College London/NanoLSI
Mark MacLachlan
University of British Columbia/NanoLSI
Kunio Matsumoto
NanoLSI
Mikihiro Shibata
NanoLSI
Shinji Watanabe
NanoLSI
Richard Wong
NanoLSI
■Other
All participants are kindly requested to make their own travel, accommodation, visa, and related arrangements.
■Organizers
Organized by
Nano Life Science Institute (WPI-NanoLSI), Kanazawa University
Co-Organized by
Cancer Research Institute of Kanazawa University
Institute for Frontier Science Initiative of Kanazawa University
Supported by
Japan Society for the Promotion of Science (JSPS) London
■Inquiries
Secretariat of The 2nd NanoLSI Symposium in London
E-mail: 2NanoLSI@c-linkage.co.jp